"The Last Thoughts of Gino Merli"
By Tom Flannery
"The Last Thoughts of Gino Merli" is a one man, one act play about the remarkable true story of WWII Congressional Medal of Honor Recipient Gino Merli from Peckville, PA. Since its inception in 2007 the play has toured every year around Veteran's Day to many educational institutions in a seven county area of Northeastern Pennsylvania. 36 High Schools, many of them 3 times, colleges and other performing arts stages have hosted the play. Over 50,000 students, administrators, teachers, veterans, and other members of the general public have seen it. Along the way, the play has received universal acclaim.
Produced entirely by professionals from the Northeast PA region, it can now be stated that "The Last Thoughts of Gino Merli" is the most successful one-act play both artistically and financially in the history of Northeast PA.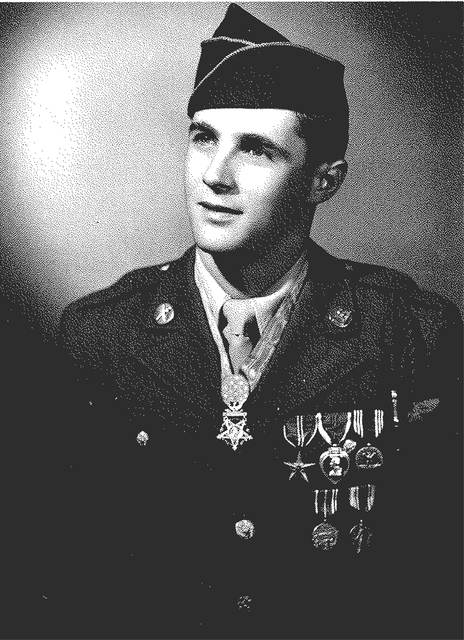 Now Playing November 10, 2022
7:00 pm at Peoples Security Bank Theater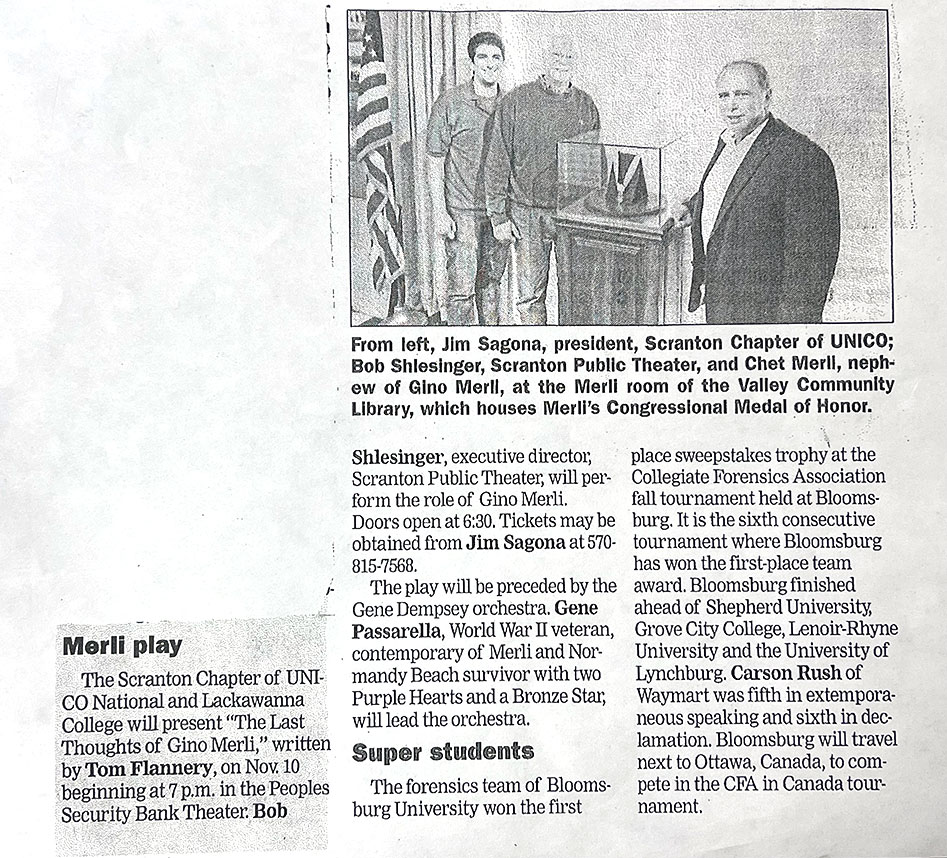 Audience Comments
"The performance was absolutely outstanding. Coupled with the lighting and sound effects efforts of the tech support team, they had the audience spellbound and on the edge of their seats. Bravo!"
-R. Ely, Director of Veterans Affairs/VS Susquehanna County
"A top notch program… a terrific piece of theatre. Very high quality."
-P. Mosley, Distinguished Professor of English and Comparative Language, Penn State Scranton
"A tremendous performance. A powerful and artistic means of demonstrating the impact of war for all involved. Students were engaged and focused – not with the theatrics – but with the message."
-J. Rushmer, Dallas High School
"'The Last Thoughts of Gino Merli' was done so incredibly"
"It was emotional, funny, and serious all at the same time"
"The sound effects were superb"
"You could hear a pin drop in the auditorium"
"… all in all I wouldn't trade this experience for the world."
"It was an amazing and psychedelic experience."
– What the Students Thought, 2015 Tour
"I will be quite honest. I did not expect to be interested in this play one bit… Thank you so much for bringing the play and its amazing story to our school."
-Stroudsburg High School Senior
"Riveting"
– P. Hart, Assistant Principal, Dunmore High School
"I have seen this play four times (twice at Forest City) and it has never been anything less than great."
– Forest City High School Teacher
"As a Desert Storm veteran, I found the play to be emotional but in a good way. This was the second time I have seen it and found it just as good as the first."
-Wallenpaupack Area Teacher
"The strong points of this play are too many to mention."
– Mountain View High School Teacher
"On behalf of the Gino J. Merli Veterans' Center, I would like to thank you for a wonderful performance… Our residents and staff enjoyed the performance and are still talking about the wonderful job you did."
-P. Wood, Director of Activities, Gino J. Merli Veterans' Center
Notes on the Play
The play is a producer's dream. It requires a black box set and can be performed in a 14'x14' space. The props, costume and set pieces are minimal so it can be easily transported. The main ingredient for its success is that it needs to be performed by a really good actor 55 years and older. Outstanding lighting and sound are also crucial to its success. If needed, an excellent sound tape is available upon request.
The Scranton Public Theatre is extremely proud of this production. It has been an all around success. Its playing time is about 50 minutes and is best suited for ages 14 and over.
Procuring Scripts, Booking the Play, and Aquiring the Rights to Produce the Play
Copyrighted by the Scranton Public Theatre in 2008 and again in 2019, Tom Flannery's "The Last Thoughts of Gino Merli" is subject to a royalty. It is fully protected by the copyright laws of the United States of America. It may be given a stage presentation by amateurs upon request and by payment of a royalty of $50.00 for the first performance and $50.00 for each additional performance. Payment must be made one week before the date when the play is given. Checks must be made payable to the Scranton Public Theatre, P.O. Box 1451 Scranton, PA 18501-1451 or 213 Leach Hill Rd, South Abington Township, PA 18411-1326 c/o Producer Robert Shlesinger.
For all other rights, please apply to Scranton Public Theatre, P.O. Box 1451 Scranton, PA 18501-1451 or online at scrantonpublictheatre.org.
Booking the play requires contacting scrantonpublictheatre.org. A performance fee is required as well as a fee for the tech director, if needed, plus transportation, housing, and meal expenses.
Scripts can be obtained by contacting scrantonpublictheatre.org or [email protected]. Cost of a script is $10.00 with part of the fee going to a worthy veterans or first responders organization. All checks should be made out to Scranton Public Theatre.
Finally, Tom Flannery's "The Last Thoughts of Gino Merli" is dedicated to all the men and women who have proudly worn the uniform of the United States, whether it be in war or in peacetime and to all the first responders who have so valiantly battled the Covid-19 pandemic.
Ready to Share "The Last Thoughts of Gino Merli"?
Bring this remarkable story
to your stage.